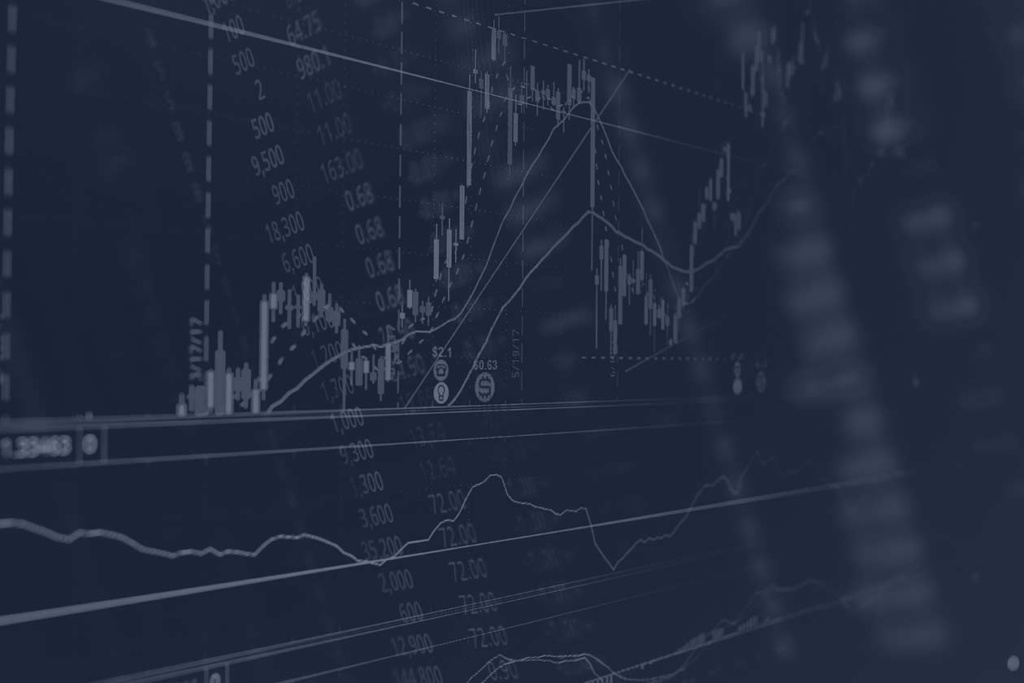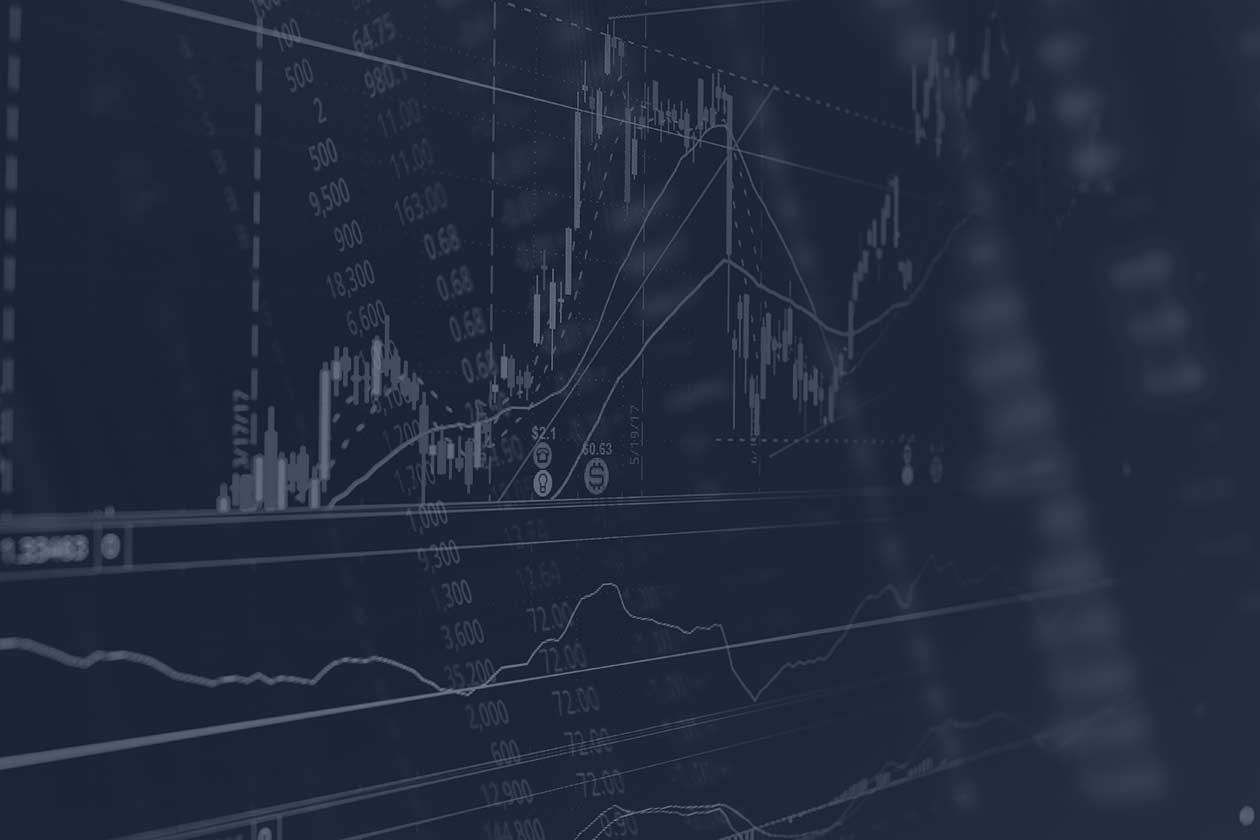 OTC Crypto Trading Commentary - Aug 26th
MACRO + CRYPTO SUMMARY 
---
The recent tone of Fed speakers and the 5 FOMC governors slated for the Friday of the Jackson Hole conference should have flagged to the market that the FOMC had an agenda.  And that agenda was to tame the market from misinterpreting their last meeting as an inflection point towards any possible easing.  The market rally in July off oversold conditions turned into a low volume technical driven bid in August that repriced rate hike expectations to a needle thin pivot at end 2022 before EASING (!) in 2023.

The Fed clearly didn't like the first downtick in monthly CPI, even at a level > 8% which has the market pondering (dreaming?) of the return to an accommodative monetary stance.  With the Fed reminding markets that higher rates are on the way, ETH has given back 50% of the June-Aug rally and the summer equity rally has come to a close.  This leaves the market looking forward to mid September merge, likely with a bit less length but still fundamentally bullish.  With few events until then, and momentum out of the sails for now, range bound trading is the base case, and we're selling pre-merge strangles as a trade expression.  
DERIVATIVES

---
ETH 1month Vol softened on the week to a still-elevated level of 103% from highs of 108% as the market consolidated after last Friday's (Aug 19) 13% sell-off. 

ETH 30d Realized Vol is now only 75%, a level not seen since before May's Luna collapse.

ETH ATM Vol Term Structure – 16th Sep 'Merge Gamma' peak is currently a significant 11% Implied Vol over 2nd Sep.

ETH Put Skew: 1m vol is at the lower end of the 6 month range at 8%.




ETH ATM Implied Volatility

Source: skew
Realized

Volatility

Source: skew
ETH ATM Volatility Term Structure

Source: skew
ETH 25d Skew

Source: skew
Altcoin Vol
---
With a few exceptions, altcoins have not followed the ETH/BTC vol rally in recent weeks. Volatility tends to rise for small cap or new tokens as a result of interest in the project rather than a selloff. As interest declines, tokens typically cease trading and volatility falls. This downward trend in alt vols has reinforced our belief that the bear market is filtering out alt projects and concentrating funds into a smaller number of tokens. However, the recent buzz surrounding meme stocks like BBBY will be worth keeping an eye on. DOGE and SHIB both held rallies in the aftermath of the FOMO around GME. If there are more rallies in memestocks, we expect to see something similar around alts. 
Rates, Funding & Basis
---
Institutional bilateral lending markets in crypto went into a state of standstill back in June, as lenders waited for any contagion effects to play out, and for visibility on Q2 financials to gauge the impact of the market on any of their borrowers. However this market has continued to recover, and we see increasing appetite for both credit and duration risk among lenders. Rates are now relatively higher compared to where they were earlier this year, reflecting a lower supply of capital in general, but also to an extent higher risk-free fiat rates driven by Fed hikes.
Perp funding rates for BTC and ETH continue to be fairly stable and range-bound, with enough arbitrageurs on either side of the market now. In the altcoin space, however, an equally weighted index of funding rates across top 20 Altcoins by liquidity demonstrates that most altcoins continue to have reasonably negative funding rates in this market.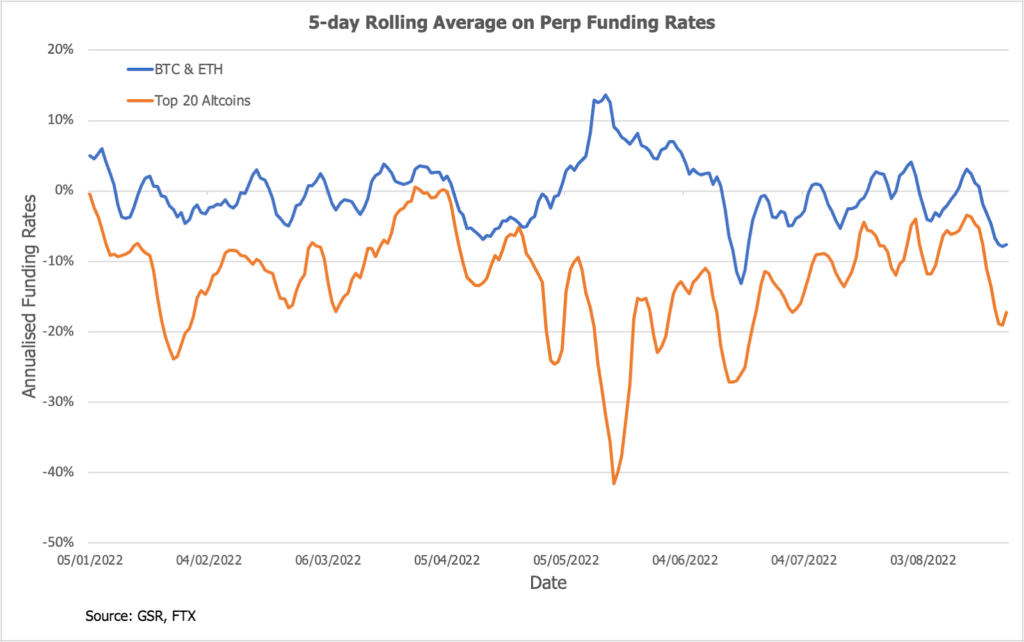 In the futures space, ETH September and December futures continue to exhibit a deeply negative basis. ETH futures fixings across exchanges will reference only the Proof-of-stake token after the merge, and not any Proof-of-work token which is forked out, therefore triggering market participants to be long ETH spot and short the dated futures as a delta-neutral trade.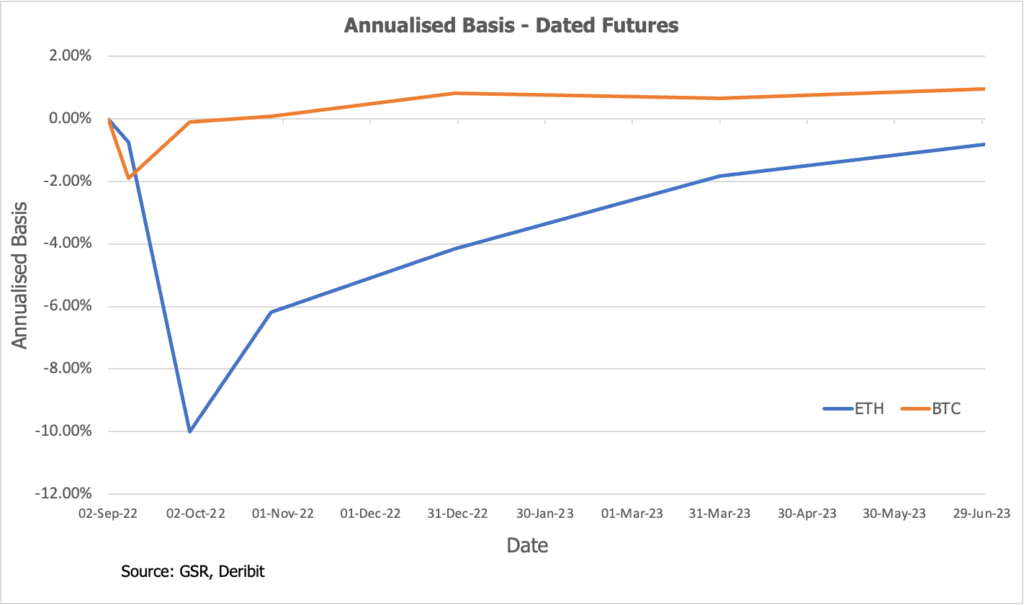 Authors:
Mitch Galer, Junior Trader – Altcoin Vol
Ruchir Gupta, Trader – Rates
John Cole, Trader – Derivatives
Luke Farrell, Trader – Macro Summary
Disclaimers: "This material is a product of the GSR Sales and Trading Department. It is not a product of a Research Department, not a research report, and not subject to all of the independence and disclosure standards applicable to research reports prepared pursuant to FINRA or CFTC research rules. This material is not independent of the Firm's proprietary interests, which may conflict with your interests. The Firm trades instruments discussed in this material for its own account. The author may have consulted with the Firm's traders and other personnel, who may have already traded based on the views expressed in this material, may trade contrary to the views expressed in this material, and may have positions in other instruments discussed herein. This material is intended only for institutional investors. Solely for purposes of the CFTC's rules and to the extent this material discusses derivatives, this material is a solicitation for entering into a derivatives transaction and should not be considered to be a derivatives research report. This material is provided solely for informational purposes, is intended for your use only and does not constitute an offer or commitment, a solicitation of an offer or comment (except as noted for CFTC purposes), or any advice or recommendation, to enter into or conclude any transaction (whether on the indicative terms shown or otherwise), or to provide investment services in any state or country where such an offer or solicitation or provision would be illegal. Information is based on sources considered to be reliable, but not guaranteed to be accurate or complete. Any opinions or estimates expressed herein reflect a judgment made as of the date of publication, and are subject to change without notice. Trading and investing in digital assets involves significant risks including price volatility and illiquidity and may not be suitable for all investors. GSR will not be liable whatsoever for any direct or consequential loss arising from the use of this Information. Copyright of this Information belongs to GSR. Neither this Information nor any copy thereof may be taken or rented or redistributed, directly or indirectly, without prior written permission of GSR. Not a solicitation to U.S. Entities or individuals for securities in any form. If you are such an entity, you must close this page."