Bitcoin began the month at $57,000 and has since endured substantial selling pressure leading to monthly lows below $30,000 on some trading platforms. Bitcoin is now hovering in the $32,000 to $39,000 range. Ethereum is currently settling at $2,500 after reaching an all-time high of over $4,100 at the start of May. 
Bitcoin sold off 30% on May 19th after multiple headline stories turned sentiment negative. Government leadership in China made stern comments about the asset class, implying a more heavy handed regulatory crackdown was coming.  
"Recently, cryptocurrency prices have skyrocketed and plummeted, and speculative trading of cryptocurrency has rebounded, seriously infringing on the safety of people's property and disrupting the normal economic and financial order," the regulator's statement said. 
Tesla also announced it had suspended its plans to let customers pay for cars in bitcoin due to environmental concerns about bitcoin mining, a matter of weeks after Elon Musk had made the original announcement. Elon musk's tweets have now moved the bitcoin price on multiple occasions. During the period of selling pressure across the wider market Rich Rosenblum of GSR told Coindesk, "the part that stands out the most is that volatility has exploded recently, with many assets experiencing over 200% realized, which is huge," "Then, at the same time, BTC volatility is elevated vs. its lull a few weeks ago, but certainly muted relative to the rest, staying at under 100%."
The crypto community met in Miami last week at what was the biggest bitcoin conference ever, celebrities such as the Winklevii, Tony Hawk and Jack Dorsey took to the stage with over 12,000 people in attendance. The market however remains bearish in the short term. 
With many negative stories circulating it's important to remember bitcoin is up 237% for the last 12-months and ethereum is up 915%. Year-to-date, bitcoin is up over 13% and ethereum 231%.
Bitcoin price action May, source thetie.io: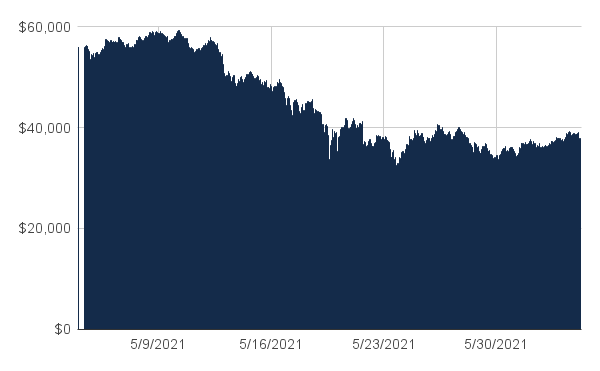 After reaching all-time highs in early May, Ethereum is now sitting at $2,500. Very active communities are being built within the ethereum ecosystem. NFTs have captured the imagination of the retail audience, and defi continues to lead the cryptocurrency sector when it comes to innovation, both of these movements are connected to ethereum and this activity has been a big driver in 2021. Users need ETH to interact with these technologies. The more people who are involved with these communities and protocols, the higher the value of ETH goes. According to Glassnode, ethereum defi activity has slowed to 2020 levels. So far, ETH has held up relatively well against bearish sentiment during this cool down period.
Ethereum price action May, source thetie.io: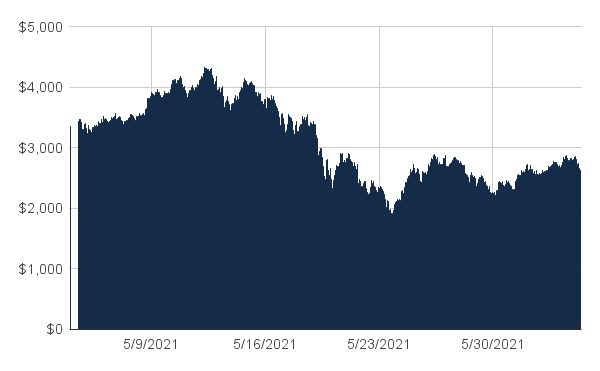 Bitcoin's market cap dominance sits at 41%. Bitcoin last dropped to this level in 2018. Ethereum has risen to 19%, earlier in the month Deribit reported that ether (ETH) options trading volume surpassed that of bitcoin's (BTC's) for the first time on its platform.
Bitcoin + Ethereum market cap dominance, source thetie.io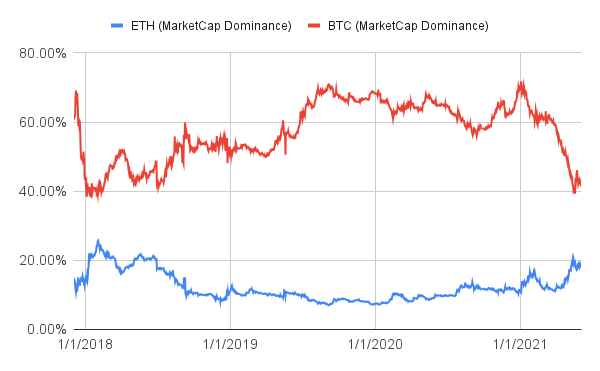 GSR goes carbon neutral
GSR announced that it will be making its entire business operation – including Bitcoin mining – carbon neutral through a partnership with MOSS, becoming among the first miners to fully offset its carbon footprint.
This partnership builds on GSR's existing efforts to integrate more environmentally-friendly practices into its operations. Currently, GSR already utilizes renewable hydroelectric energy to power part of its mining operations.
Through the partnership, GSR will offset its carbon footprint through the purchase of tokenized carbon credits from the Fortaleza Ituxi Project, which aims to protect land in highly deforested regions in the Amazon rainforest. The MOSS platform will facilitate the purchase of these tokens. Calculations on carbon usage are made based on methodologies laid out in the United Nations Intergovernmental Panel on Climate Change Fifth Assessment Report and measurements dictated by the Greenhouse Gas Protocol. 
GSR is continuing its commitment to growing its mining operations in an environmentally responsible manner. In the second half of 2021, GSR is looking to deploy additional mining equipment in North America, focusing on opportunities to use clean energy sources as the main source of power. This would mark the further evolution of GSR from being one of the first firms to offset carbon emissions from its mining activities, to becoming a natively carbon-neutral mining operation.
Trey Griggs, CEO of GSR Services USA said: "As Bitcoin market activity has grown, the subject of mining and energy use has become one of the industry's hot button issues. There are important steps being taken, such as the increased use of alternative energy but, as with any innovation, it will take time for momentum to build. Our effort to offset our carbon footprint and further expand our use of alternative energies is part of our commitment to help the industry make the transition to a greener infrastructure."
Crypto markets is where all the fun is
The team at GSR talked to Bloomberg about crypto volatility, crypto market making, price arbitrage, futures trading, and options writing — in a booming new corner of finance. 
Veteran traders take lessons learned in Wall Street markets to the wild west that is crypto https://t.co/1vmjDDydjv

— Bloomberg Crypto (@crypto) May 10, 2021
"All the fun that used to be had 30 years ago in the commodity markets and is no longer fun — that fun is now in crypto," says [former Wall Street energy trader Trey Griggs,] the U.S. chief executive officer at GSR Markets in Houston.
'Griggs is among crypto newcomers deploying systematic strategies that are tried-and-tested in conventional asset classes — price arbitrage, futures trading, options writing — in a booming new corner of finance.'
If you like inventing financial things, it is satisfying and lucrative to reinvent finance. https://t.co/h9l2WS97ce

— Bloomberg Opinion (@bopinion) May 11, 2021
Matt Levine of Bloomberg added, 'another aspect of it is that if you work on Wall Street — particularly as a derivatives structurer or high-frequency trading developer or securities lawyer — you actually like this stuff. You are there because you are fascinated by structure, because you enjoy puzzling out the technical details of these mechanisms and trying to find new ways to push on them.'
GSR in the media
Reports, market reports, and other information ("Information") provided by GSR or its affiliates have been prepared solely for informative purposes and should not be the basis for making investment decisions or be construed as a recommendation to engage in investment transactions or be taken to suggest an investment strategy in respect of any financial instruments or the issuers thereof. Information provided is not related to the provision of advisory services regarding investment, tax, legal, financial, accounting, consulting or any other related services and is not a recommendation to buy, sell, or hold any asset. Information is based on sources considered to be reliable, but not guaranteed to be accurate or complete. Any opinions or estimates expressed herein reflect a judgment made as of the date of publication, and are subject to change without notice. Trading and investing in digital assets involves significant risks including price volatility and illiquidity and may not be suitable for all investors. GSR will not be liable whatsoever for any direct or consequential loss arising from the use of this Information. Copyright of this Information belongs to GSR. Neither this Information nor any copy thereof may be taken or rented or redistributed, directly or indirectly, without prior written permission of GSR. Not a solicitation to U.S. Entities or individuals for securities in any form.  If you are such an entity, you must close this page. Trading from Singapore, please review The Monetary Authority of Singapore (MAS) compliance note.