The Market
Bitcoin started the month with a brief push towards the $12,000 level, however an aggressive sell-off followed on September 2nd & 3rd. Bitcoin found support in the low $10,000's and has since been range bound between $10,000 and $11,000 for the past few weeks. The sell off in early September seemed to be a correlation to the S & P 500. Bitcoin, and the wider crypto market appear to be following larger macro moves over the past few weeks.
Even risk-off assets, such as gold, took a tumble in early September, signifying a correlation across most asset classes. Further volatility is expected in macro markets due to the turbulent build up to the November elections in the US, and talk of a second wave of lockdowns growing across the globe. Crypto has been unable to shake its recent correlations, however, Bitcoin should see a strong floor at $10,000 if it is tested. Equities and gold touched two-month lows recently but Bitcoin was relatively strong holding well above the $9,900 levels from 3 weeks ago. The force of the dollar was also against BTC throughout September, the Dollar Index (DXY), gained nearly 1.8% in the past 4 weeks – its first monthly rise since March. Short term we could see some bearish action, but with more stimulus planned down the road the Bitcoin market is looking promising longterm. The percent of BTC supply held for at least one year recently hit 63.5%, its highest level since 2010.
Micro Strategies purchase of over $425 million of Bitcoin has continued to get media traction. GSR trader Micah Ersliting told Forbes recently, "Institutional curiosity and explorations continue to increase," adding MicroStrategy's latest bitcoin purchase "caught attention."
Kraken BTC/USD, 4 hour, September 2020, Source: cryptowat.ch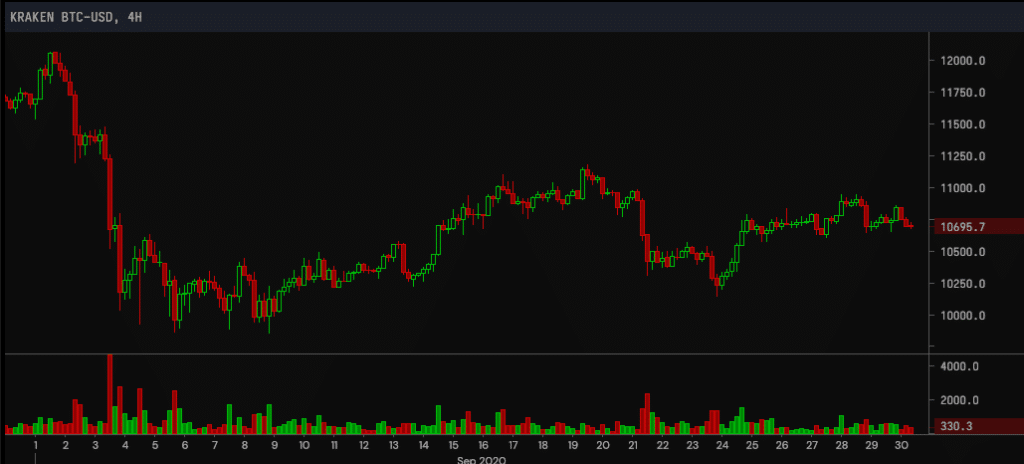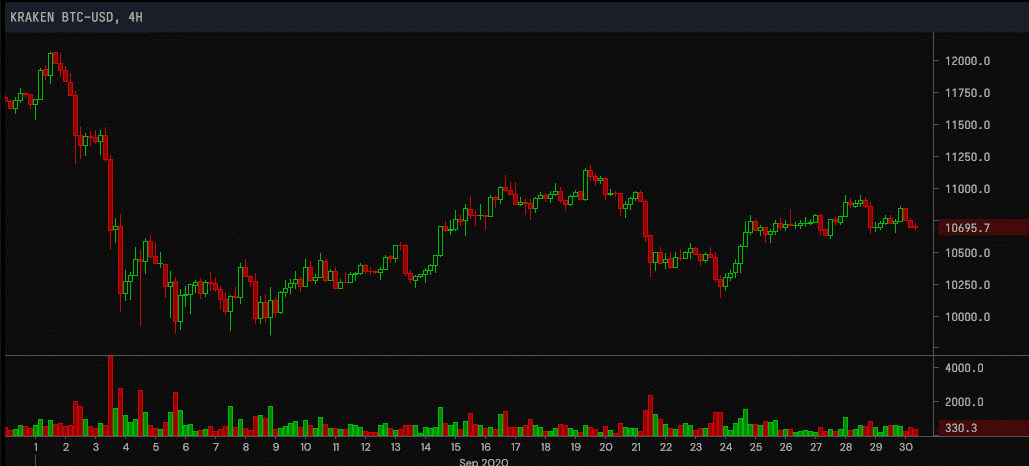 Hash rate has been consistently growing during the Chinese wet season. However as the season is coming to an end shortly, this may result in less fierce competition.
Total hash rate. Source: Blockchain.com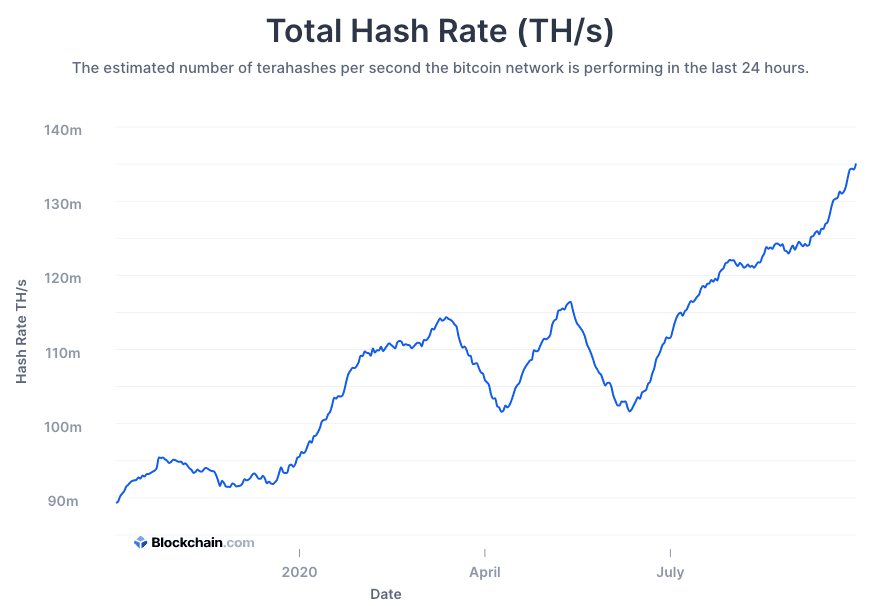 Defi Breaks the $10 Billion Mark
Uniswap clocked a record figure of over $2 billion in locked value just after midnight (UTC) on Monday the 28th and currently has $2.21 billion worth of crypto assets locked, according to DeFi Pulse. The total value locked in the Defi ecosystem now stands at $11.14 billion, Uniswap's dominance is just shy of 20% with Maker following with $1.93 billion.
Uniswap's 24 hr trading volume has slightly waned as the community gathers its breath after a few record breaking weeks.
Uniswap's 24 hr trading volume. Source Uniswap.info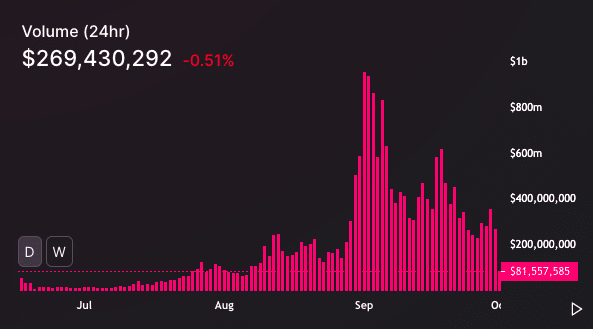 Ethereum Being Fully Tested
Just like the ICO boom, DeFi has pushed Ethereum to its limits. Gas fees have grabbed the headlines as some traders are frustrated with how Ethereum is handling the activity. Coinbase even announced they are passing gas fees onto their customers. However it can be argued that this has been very healthy for Ethereum, by showing some limitations that can only be tested by the thousands of users defi has brought, it can hopefully assist with future innovation and experimentation of the network.
The chart below outlined by the team at Coinmetrics, shows how ETH's bull run has been powered by the activity of these Defi protocols. What's interesting is that through protocols like Uniswap all transactions happen on chain, so the Ethereum network must settle each trade occasionally clogging the network and boosting fees.
Source: coinmetrics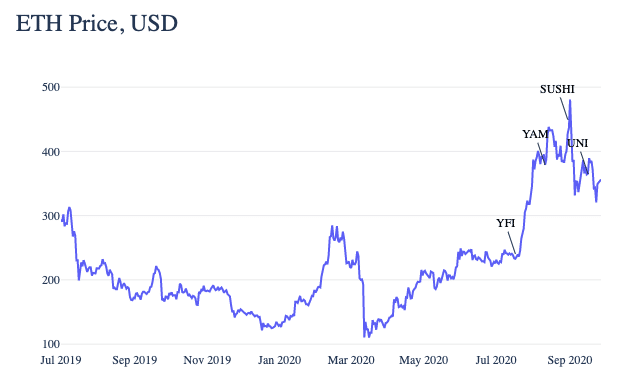 NFTs Perhaps the Next 'Big Thing'
Data from the tie below shows the increase in attention around NFTs, or non fungible tokens. This technology is touted as the future of gaming, art and collectibles. The most well known project is probably Crypto Kitties, created by Dapper labs. Although a playful example that some may quickly shrug off, the scarcity this technology can bring to these industries is promising.  "Right Place & Right Time," a digital art piece based on Bitcoin's (BTC) fluctuating price action, created by artist Max Kane, sold for more than $100,000 in mid September.
Source: The Tie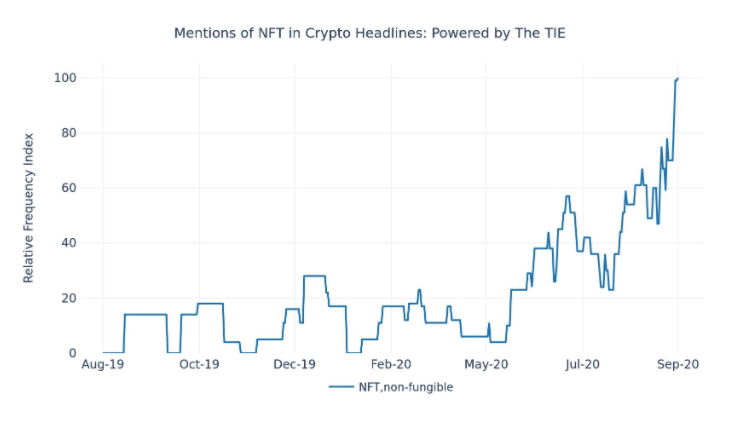 GSR Update
TD Ameritrade
Rich Rosenblum of GSR discussed Bitcoin and UniSwap with Oliver Renick live on the TD Ameritrade Network. Watch the live interview here.
The Base Layer Podcast
Rich Rosenblum of GSR recently discussed the digital asset space with David Nage on the Base Layer Podcast. They explored how the institutional view of Bitcoin is changing, the latest attention on Defi, and how GSR is reducing the friction between capital and innovation.
GSR Joins Defi Alliance
GSR is excited to join the Chicago Defi Alliance.
The Defi Alliance launched in April 2020 with the goal of expanding the reach of DeFi globally by helping to connect founders and projects with a network of experts and resources. Read more here.
We are Hiring!
The GSR team continues to expand at a rapid pace, and currently has open roles across Trading, Business Development, Operations, Engineering and Legal. You can view all open roles here.
Reports, market reports, and other information ("Information") provided by GSR or its affiliates have been prepared solely for informative purposes and should not be the basis for making investment decisions or be construed as a recommendation to engage in investment transactions or be taken to suggest an investment strategy in respect of any financial instruments or the issuers thereof. Information provided is not related to the provision of advisory services regarding investment, tax, legal, financial, accounting, consulting or any other related services and is not a recommendation to buy, sell, or hold any asset. Information is based on sources considered to be reliable, but not guaranteed to be accurate or complete. Any opinions or estimates expressed herein reflect a judgment made as of the date of publication, and are subject to change without notice. Trading and investing in digital assets involves significant risks including price volatility and illiquidity and may not be suitable for all investors. GSR will not be liable whatsoever for any direct or consequential loss arising from the use of this Information. Copyright of this Information belongs to GSR. Neither this Information nor any copy thereof may be taken or rented or redistributed, directly or indirectly, without prior written permission of GSR. Not a solicitation to U.S. Entities or individuals for securities in any form.  If you are such an entity, you must close this page. Trading from Singapore, please review The Monetary Authority of Singapore (MAS) compliance note.