The Market
Bitcoin started the month trading in the range of $8,000 to $8,500 and showed support at the $8,000 level for the first few weeks of October. A large sell-off then occurred on October 23rd as bitcoin dropped to $7,500 in a matter of minutes. Volatility is a common occurrence in crypto markets, however, the resurgence two days later, that would propel bitcoin to briefly hit the $10,000 mark was remarkable even by bitcoin's standards. Bitcoin rose an unprecedented 40% in one day, finishing the month up 10.2%.

According to Skew, liquidations on BITMEX have reached $21 billion over the last 12 months. The record sell-off was $751 million in a single day in November of 2018. On October 23rd, during bitcoin's drop to the $7,500 range, liquidations almost hit $700 million. BITMEX offering 100x leverage is obviously a major factor in the number of traders being liquidated, as it is clearing adding fuel to volatile market moves. Recently, Binance questionably rolled out a whopping 125x leverage.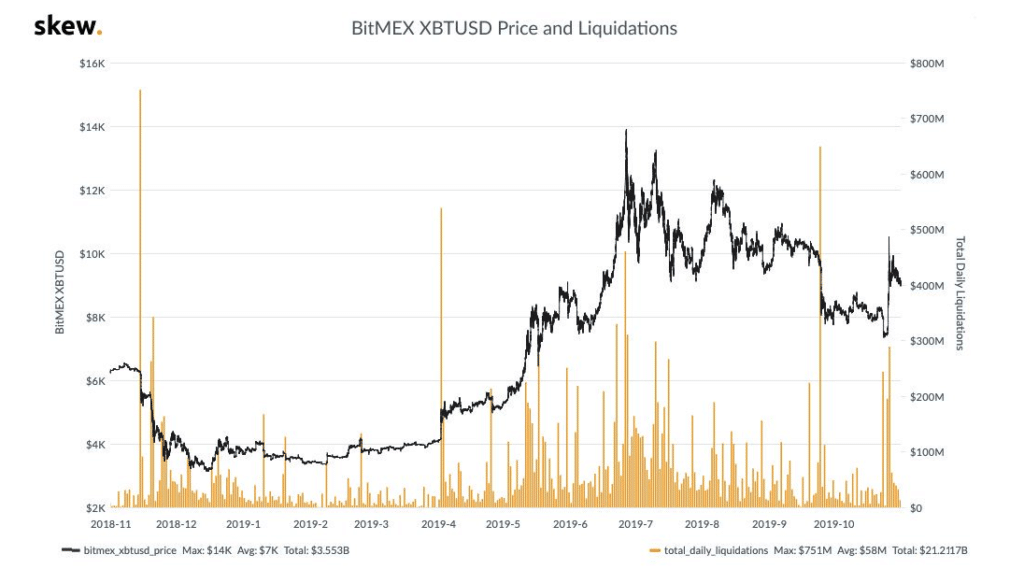 BitMEX XBTUSD Price and Liquidations
All cryptocurrencies in the top 10 saw gains in October. BTC is up (10.24%), BCH (24%), BSV (48%), EOS (10%), ETH (1.8%), XRP (15%), BNB (26%), LTC (4.3%), and XLM (10.2%). Tron at number 11 also had a substantial gain of 36%.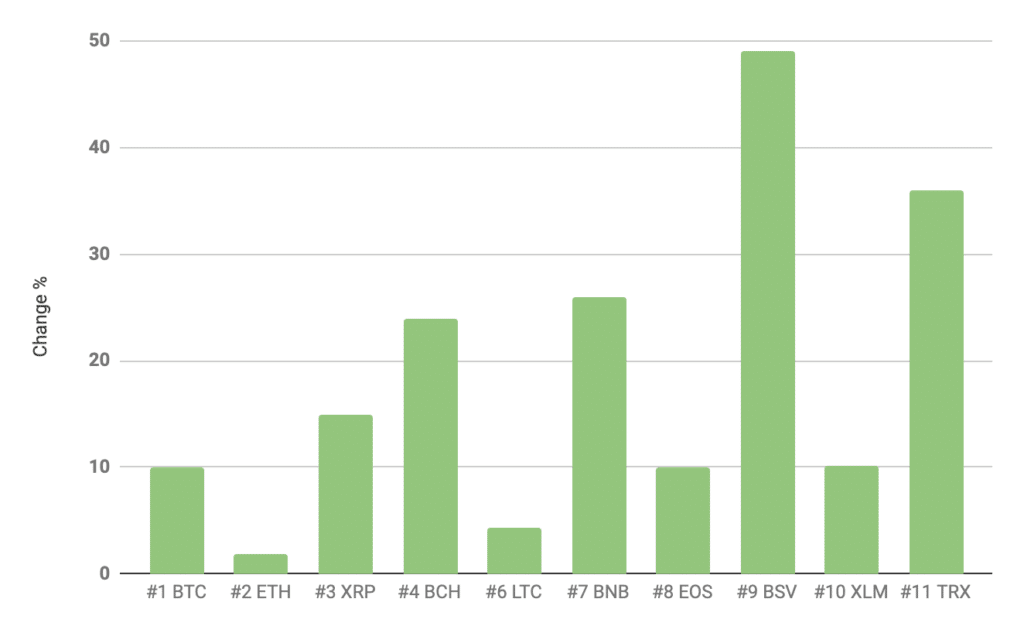 Performance of the top 11 cryptos in October
The biggest losers in the top 70 in October were LEO (-4.5%), XTZ (-1.47%) ZEC (-2.3%) DCR (-8.9%) HEDG (-8.3%) VSYS (-18%) ALGO (-10.6%), EKT (-18%), LISK (-5.5%), and QNT (-6.8%). Other projects of note, such as BEAM and GRIN, both of which are based on the Mimblewimble protocol, lost over 34%. Additionally, KIN is down 57% in October, as it continues to battle with the SEC.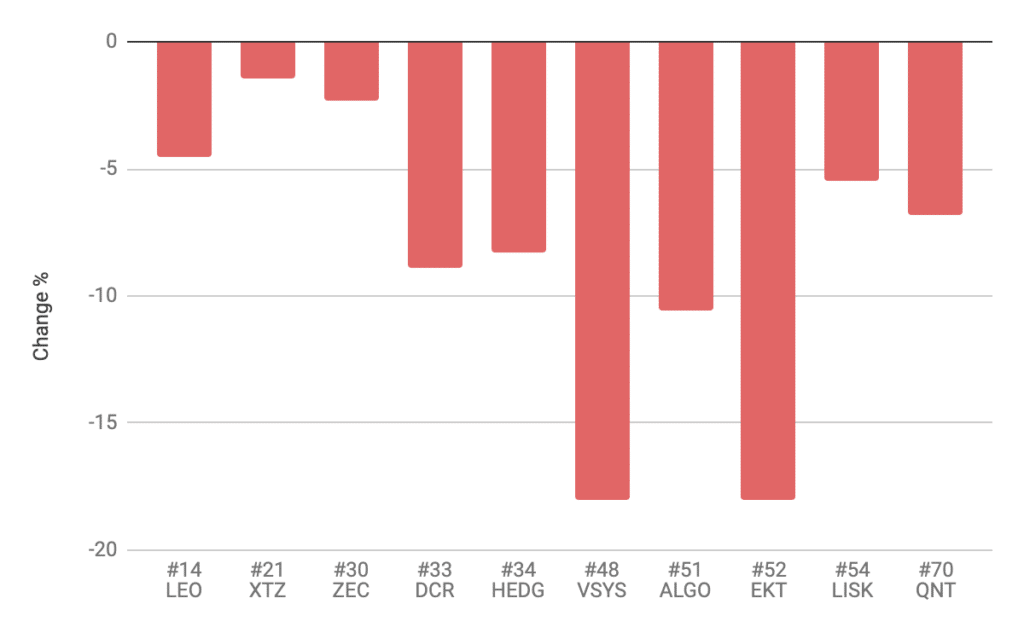 The biggest losers in October inside the top 70.
As bitcoin celebrated its 11th birthday in October, all-time fees also reached a new milestone of $1 billion, the cumulative amount of fees that have been paid on the BTC network.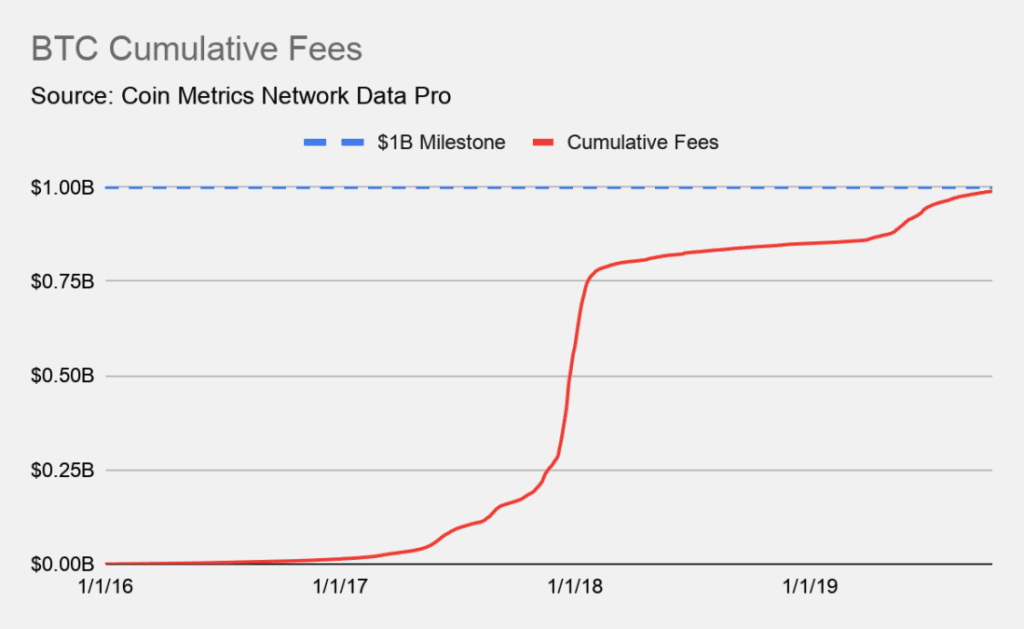 BTC cumulative fees, source Coin Metrics
China Narrative Re-emerges
The biggest news of the month came from comments from President Xi Jinping of China about blockchain technology. China has had an interesting history with the cryptocurrency market. On the 5th of December 2013, the People's Bank of China (PBOC) made its first step in regulating bitcoin by prohibiting financial institutions from handling bitcoin transactions. Many exchanges were banned by regulation in September 2017 with almost 200 platforms closing down by July 2018. Despite this, it was arguably a positive sign for crypto at the time, as the last widespread technology to get the 'banned' stamp of approval from the Chinese government was the internet in 1996.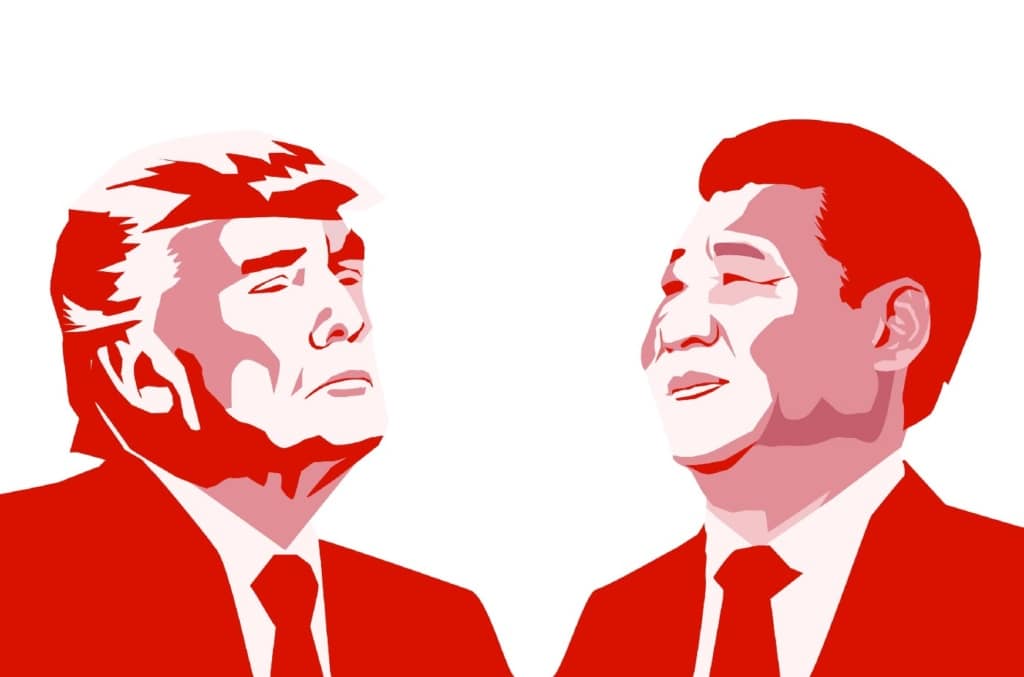 Digital Assets could play a future role in the trade wars of China and the US
On October 23rd President Xi said China must make a "greater effort" to develop and apply blockchain technologies and gain an "edge over other major countries."
"Major countries are stepping up their efforts to plan the development of blockchain technology. Greater effort should be made to strengthen basic research and boost innovation capacity to help China gain an edge in the theoretical, innovative and industrial aspects of this emerging field," said Xi.
These are optimistic comments for the future adoption of blockchain technology, from the man who sets the rules for 20% of the world's population.
The Inevitability of DCEP (Digital Currency Electronic Payments)
It is clear that the question is when not if China will release its own digital currency backed by the state.
This release will stir a lot of interest from not only the digital asset space but also global macro markets. The hesitation and lack of progress from the US in this area has been highlighted by the focus from Congress on Facebook's project Libra and its questionable history of data breaches. A wider conversation about ensuring the future of the US dollar as the world's reserve currency still remains on the fringes. Mark Zuckerberg uses the lack of innovation and his concern for the US being left behind as the focus of his arguments, but the answer surely isn't a cryptocurrency run by a monopoly of centralized technology institutions, the very structure bitcoin was built to compete with. The private sector has the resources and manpower to innovate faster than the government, so it is no surprise Libra came to fruition before any digital government currency. However, the combination of 'Zuck Bucks' and the murmurs of DCEP should get the US exploring a digital currency in a hurry, at least behind closed doors.
The Moral Question
There will be many long conversations that are only just beginning about the use of DCEP. It is clear China will use blockchain to advance their authoritarian rule through mass surveillance. Blockchain's immutability could be ideal for tracing consumer spending and giving clear oversight of the financial system. It is sadly ironic that the values cryptocurrency was founded on are very far away from why the first state has decided to implement it. It's arguably more about policing than technological progress. Either way, these comments should at the very least make it clear to the wider financial world and to global consumers that digital assets are here to stay, and that if governments ignore crypto assets they will get left behind.
GSR Update
GSR has partnered with Blockstack to provide overseas cryptocurrency liquidity for the Stacks token (STX). Blockstack is the first-ever project to receive SEC approval for a blockchain token offering under Regulation A+. The agreement has been filed with the SEC on Form 1-U.
Blockstack is a full-scale decentralized computing platform that was founded at Princeton University in 2013 with the aim of putting Internet users in control of their data and identity. Blockstack's team includes computer scientists from Princeton, Stanford, and MIT, and they have raised over $75 million from a reputable list of investors that includes Union Square Ventures, Y Combinator, Harvard University, and Digital Currency Group.
GSR is looking forward to the Digital Asset Summit on November 13th, created by BlockWorks Group (BWG). Co-Founder of GSR Rich Rosenblum will be speaking on the panel 'Integrating Institutions into Crypto'.
Follow GSR on Twitter @GSR_io